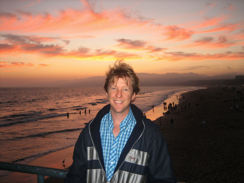 Santa Monica, California. July 2008
Favorite movies:
Notting Hill, James Bond, Lord of the Rings, Murder on the Orient Express.


Favorite Books:
Agatha Christie, Victor Hugo, Harry Potter.


Favorite Music:
Michael Buble, U2, Eva Cassidy, Jane Monheit.


Favorite Hobbies:
Movies, music, books, snow skiing, scuba diving, biking, walks on the beach.


Countries I've visited:
Canada, Mexico, Peru, UK, France, Thailand, Japan.


Countries I want to visit:
Australia, New Zealand, Fiji islands, China, Spain, Denmark.


Ken

Teaching experience:
ECC - 4 years teaching English in Nagoya, Japan.

Past experience:
Before living in Japan I enjoyed a 10+ year career working in Hollywood, California as a publicist and producer for television. My first job was at Paramount Pictures in Los Angeles after graduating from the University of Cincinnati. My major was Television Production.

Languages:
English - native language
Spanish - beginner
Japanese - super beginner

Lives in:
Los Angeles, California

Contact:
ken@seeyouspeak.com
(424) 704-5295 U.S.A.
(50) 5809-9295 Japan